At last a sustainable way of watering plants
SLH Hard Cover WATER CART
4 wheels including 2 swivel castor wheels (one braked)
Two size options: 35 or 50 litre steel water tank
Stainless Steel Pressure Chamber
Coiled Hose with Aquastop and Multi-Setting Spray Gun
The H2O-2GO cart safely transports pressurised fresh water for easy plant care. Water is dispensed using a spray gun or other interchangeable nozzle – It is very easy to use, yet has no batteries or electrical pump, so requires no charging and little or no maintenance.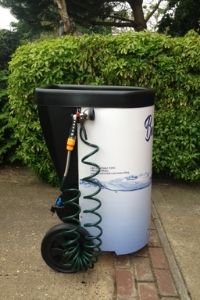 It fills from a suitable mains water tap, has a completely sealed steel water tank, making the moving of water easier and more efficient. It also overcomes the Health & Safety issues associated with using hosepipes in an office or retail
environment.
The cart is easily filled by disconnecting the quick release spray gun, then connecting the curly hose end directly to a suitable mains tap using standard garden hose fittings and left to fill – The tank is sealed and can not overflow,
so can be left unattended while filling, which takes 5-10 minutes.
Want to have your logo or specific artwork printed on the your watering cart?

No problem! For an additional cost you can have your bespoke design printed on your watering cart. (Only available with the SLH Hard Cover model)

Please call 01752 822782 with your specific design and we'll generate a quote for you.
Advantages:
Enables professional plant care
Save time and labour by streamlining the watering process
Less time spent refilling watering cans means
Allows you to water the plants more efficiently
Improved Health and Safety, due to the reduction of risk
from leaky watering cans and trailing hoses.
Dying, dry plants a thing of the past
Easily manoeuvrable even when full
Has a small space footprint
No pumps or electricity required
Simply fill up from a mains tap and GO!