Living Wall Art
For a dash of natural greenery in your living, work, reception or classroom space, add LivePicture GO. Ready to install, it's simplicity itself – no green fingers needed.
Both unusual and beautiful, it hangs on the wall as simply as hanging a painting.
LivePicture GO stands out with its minimalist design, affording the plants themselves all the attention they deserve. Its design finesse and simplicity is down to its innovative and patented capillary wick which sits inside the plant cassette.
Capillary technology keeps your LivePicture GO at the optimal level of moisture. No power source needed – just refill the water tank once every 4 weeks.
The clever techy bit is integrated into the design meaning no distraction from the artistry of the product itself.
Watch this video for the installation and planting instructions of the LivePicture GO.:
Please note: Plants are not included. See our comprehensive guide to the best plants for indoor living walls.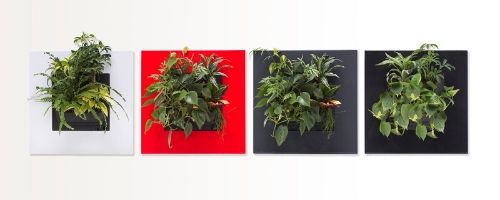 Make it your own
Choose plants to match your taste, colour scheme, mood or preference. Use your imagination – indoors or outdoors – in a single panel or in multiple modules.
Be creative and make your own wall mosaic. Keep it low-key with a simple, single LivePicture GO. Fancy a change? No problem. Simply exchange the plant cassette to suit your mood, your theme, the season or design trends. No messing.

Biophilic Design
Add vertical green innovation to your living, learning or work environment with the
impressive LivePicture GO. Its simplicity means you don't even need green fingers
to enjoy the beauty of plants. LivePicture GO has its own indicator that will let you
know when the water tank needs filling. It has enough water storage capacity to
supply sufficient water for at least 4 weeks.
LivePicture GO has a capillary feature within the plant cassette ensuring the plants
are supplied with the correct amount of water without you needing to think about it.
Enjoy the freedom and creativity of LivePicture GO. You can create your own
designs or even a wall collage by installing multiple LivePicture GO's. Its
versatility means it can be used both indoor & outdoor, as single/multiple units.
Its plant cassette are easily removable and you can fill the pockets with plants that
match your own taste, allowing you complete flexibility to suit your own preferences
or change them whenever you choose. Mounting your living plant picture is easy
too the two screws and installation guide we provide.
Choosing LivePicture GO will give you all the advantages of bringing a green environment into your space; it makes people happier, it creates a healthier indoor climate, improves air quality and of course it's beautiful too!