The elegant CILINDRO Color features a sophisticated pinstriped design. The simple and unique design is the perfect addition to a modern home.
Mix and match the varieties of sizes and colours to create your own unique plant display.
Never over or under water your plants again!
Complete with an easy-to-use self-watering system for perfect plants that last and thrive both indoors and out. This ensures plants receive the exact amount of water and nutrients they need for optimum growth for up to 12 weeks. Water is added via a reservoir, eliminating the possibility of over watering.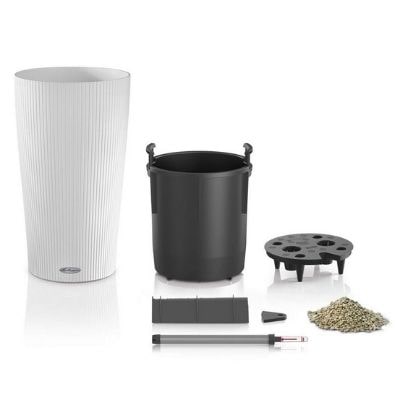 The reservoir sits below the soil and plants take up only what they actually need, taking all the guesswork out of watering.
One big advantage of the Lechuza planters is that they come with the Lechuza Pon, which is Lechuza's way of making sure your plants don't drown.
The special substrate sits between the soil and the actual water reservoir, thereby delivering water to the plants evenly.
Drainage Plug
There's a drainage plug in the bottom of the planter that allows you to use it both inside and out.
When using it outside, simply leave the plug out so that any excess water (for example, from heavy rain) can easily drain out the bottom of the planter. If you use it inside, replace the plug.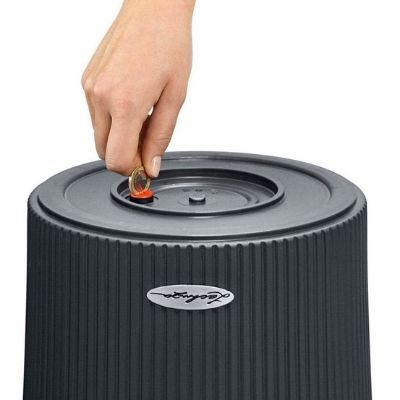 Easy Watering
The Lechuza planter has an easy-to-read water level indicator that tells you when it's time to top up. The container has a large reservoir that sits right below the liner, meaning that you don't need to water often.
Retractable Handles
The retractable handles of the liner are a wonderful addition. These can be used to easily lower the liner into the planter and also to lift the full liner out of the planter.
This means you can remove the liner without having to remove everything that's planted in it.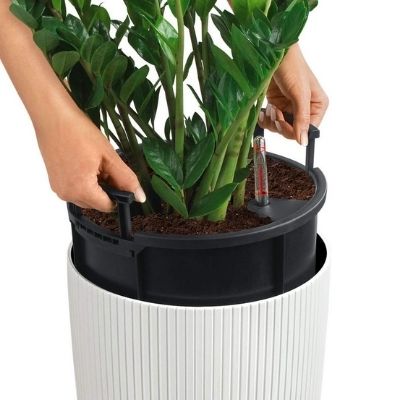 UV Resistant and Shatterproof
The plastic resin is UV-resistant and shatterproof. Fade resistant in full sun and resistant to weathering even after numerous nights of temperatures well below freezing.
Dimensions & Capacity
| | | |
| --- | --- | --- |
| | CILINDRO Color 23 | CILINDRO Color 32 |
| Dimensions ~ (W x H) | Ø 23 x 41 cm | Ø 32 x 56 cm |
| Water reservoir | 1,4 l | 4 l |
| Plant volume | 5,5 l | 13 l |
| Planter liner, dimension ~ | Ø 19,5 cm | Ø 27,5 cm |
| Planting depth | 17,5 cm | 23 cm |
| Plant height max. | 40 cm | 60 cm |