Display your herb garden in a beautiful manner.
The sleek modern self-watering planter make it easy to grow fresh herbs in your kitchen.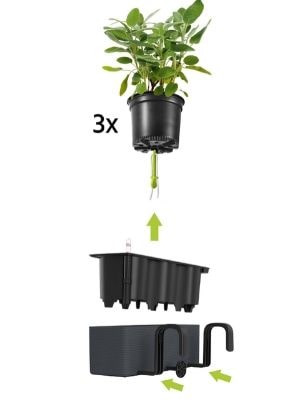 Using the wick irrigation system for this herb planter, the wick will draw water up into the soil of each plant.
Best of all, you can fit the pot the plant came in straight into the cube. These cute little pots will produce fresh herbs in whichever sunny windowsill you choose.
Your plants will thrive because they will be provided with the exact amount of water they need for optimum growth, never over or under watering, producing tasty herbs perfect for cooking and drinking.
Adding greenery to the balcony has never been easier. CUBE Color Triple offers room for three grow pots and is easy to use without repotting. This speeds up planting decorative flowering plants or practical herbs.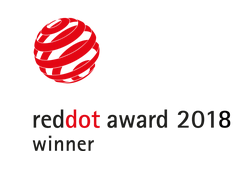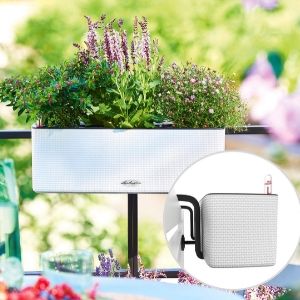 Matching CUBE Color Triple brackets included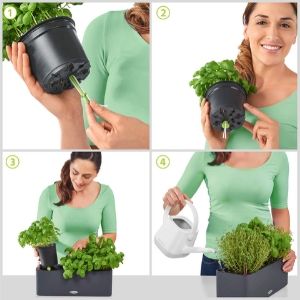 So easy with minimal maintenance. Plants are placed into the planters in their existing pots, eliminating the need for repotting.
The wick is inserted into the bottom, and this transports moisture and nutrients from the reservoir to the roots, as and when the plant needs it, never over or under watering.
Also, the in tegrated water level indicator tells you when it's time for a re-fill, leaving you without the watering guesswork for weeks at a time.
New to caring for indoor plants? Take a look at our top tips for easy indoor plant growing.
Dimensions & Capacity
CUBE Color Triple
| | |
| --- | --- |
| Dimensions ~ (W x D x H) | 14 x 40 x 13,5 cm |
| Water reservoir | 1 l |
| Plant volume | Growpot |
| Planter liner, dimension ~ | Ø 10-12 cm |
| Plant height max. | 25 cm |