Please call 01752 822782 to order
Description
Create your very own livng wall!
Thanks to the metal strip and practical magnetic bracket (not included here), the popular CUBE 14 (Color and Glossy) and the elongated CUBE Triple (Color and Glossy) can be attached to walls easily.
Hang up to three CUBE 14 planters or one CUBE Tripe planter on a single bar. Combine several metal stripes in the kitchen, bathroom or living room to create a small hanging garden even in unusual places.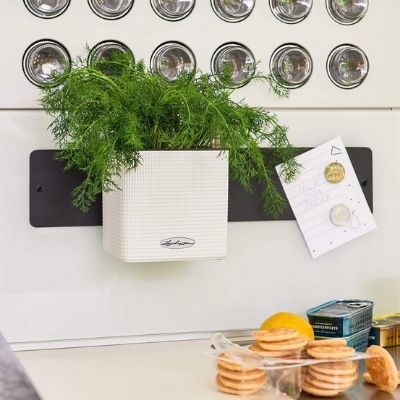 The metal bar measures 48 x 10 cm

The magnetic brackets are not included but can be ordered separately
Intended use:
Use the magnetic brackets only as described in the instructions.
The magnetic brackets are only suitable for indoor use.
A magnetic bracket is compatible with a

CUBE Color 14

or

CUBE Glossy 14

planter. For a

CUBE Color Triple

or

CUBE Glossy Triple

,

three

magnetic holders

are required.
Use only original LECHUZA parts. The

LECHUZA magnetic bracket

may only be used with the original LECHUZA metal bar.
The maximum total weight with plants and water must not exceed the following values: CUBE 14: 1.75 kg (3.85 lbs) or CUBE Triple: 5.25 kg (11.55 lbs)
More Information
Features
Options
D