Lechuza Balconera Color
The ultimate window box planter.
My secret to enhancing a bland exterior - the window and balcony box from Lechuza. They look superb in photos, create a beautiful view from inside your home and are really eye catching from the street.
PLEASE NOTE: If you intend to hang your BALCONERA planter from railings, you will need to order the BALCONERA Brackets sold separately.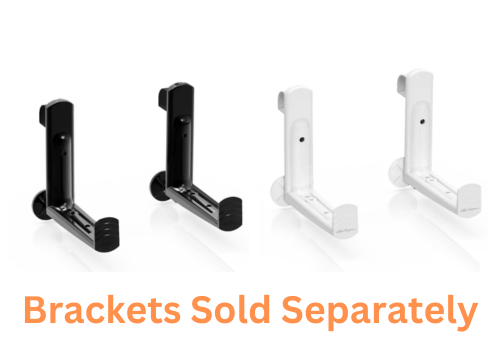 The sleek and elegant design of this self watering wonder look fantastic in city and country gardens alike. Transform the look of the tiniest balconies or windows with this smart plant box, which has a self-watering system to keep plants hydrated to exactly the right level.
If you have limited ground space but still want to grow your own greenery, a window box planter is the perfect solution. Many herbs grow well in confined spaces, and window boxes also provide good drainage. Dwarf varieties of many herbs like oregano, chives, parsley and sage will fit right into a window box environment. Find a good sunny spot and you can even grow tomatoes and chillies.
It's lightweight, UV resistant, frost-proof and weatherproof.
Simply fill up the Lechuza water reservoir and your plant will become self sufficient. The integrated water level indicator will tell you when it is time to refill the reservoir.
One big advantage of the Lechuza planters is that they come with the Lechuza Pon, which is Lechuza's way of making sure your plants don't drown. The special substrate sits between the soil and the actual water reservoir, thereby delivering water to the plants evenly.
The removable planter liners allow you to conveniently do your potting on the ground or a potting table. Attach BALCONERA to railings or walls and place the potted liners into the planter. That's it!
Special features:
Self-watering planter with water level indicator
Removable planter liner
High-quality plastic with matte surface
High-quality pure mineral plant substrate included
For balconies, fences, window sills, walls, tables etc.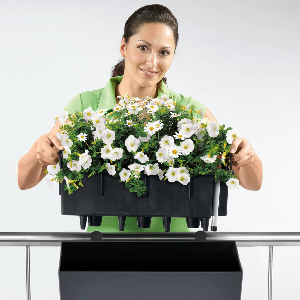 BALCONERA planter liner
- sturdy carrying handles
- attach BALCONERA to railings or walls
- easy to transport, even for tall plantings
- can be exchanged on the spot and easily moved for winter storage
- drain plug: is removed to allow excess rainwater to drain outdoors.
TIP: In bad weather, you can quickly move your plants indoors without
having to completely remove your BALCONERA, thanks to the planter liner!
Please note: To hang the Balconera from your balcony you will need the

Balcony Brackets

. These are NOT included and will need to be purchased separately.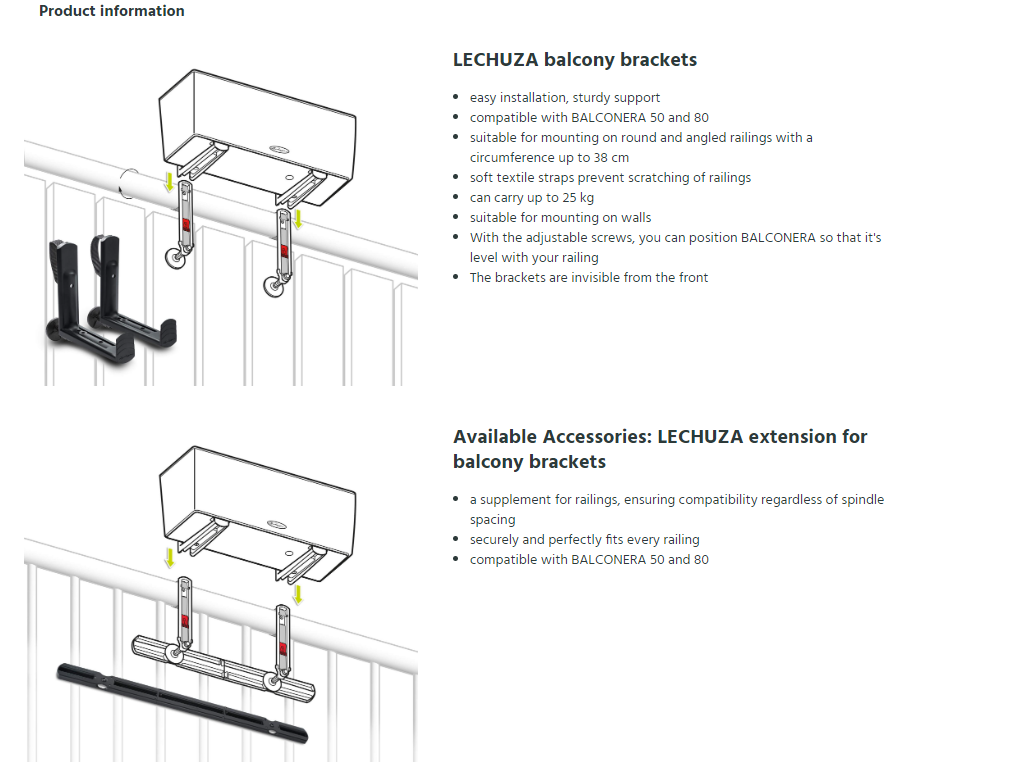 Dimensions & Capacity
| | | |
| --- | --- | --- |
| | BALCONERA 50 | BALCONERA 80 |
| Dimensions ~ (W x D x H) | 50 x 19 x 19 cm | 79 x 19 x 19 cm |
| Water reservoir | 3 l | 5 l |
| Plant volume | 8 l | 12 l |
| Planter liner, dimension ~ | 15,5 x 46,5 cm | 2 x 15,5 x 36,5 cm |
| Planting depth | 12 cm | 12 cm |
| Plant height max. | 30 cm | 30 cm |