Extra spacious for extra-enthusiastic gardeners – contain your plants all in one place without sacrificing an ounce of style.
Be inspired to experiment with new plant design ideas. Create natural, luscious privacy screens and a "mini garden" in an instant with the optional trellis..
TRIO Cottage, with its attractive high-quality rattan finish, is a versatile trough planter with three interchangeable plant liners and three self-watering systems.
Reduce maintenance with self-watering containers that extend the time between watering.
Never over or underwater your plants again! The self-watering system ensures plants receive the exact amount of water and nutrients they need for optimum growth for up to 12 weeks. Water is added via a reservoir, eliminating the possibility of over watering. The reservoir sits below the soil and plants take up only what they actually need, taking all the guesswork out of watering.
One big advantage of the Lechuza planters is that they come with Lechuza Pon, which is Lechuza's way of making sure your plants don't drown. The special substrate sits between the soil and the actual water reservoir, thereby delivering water to the plants evenly.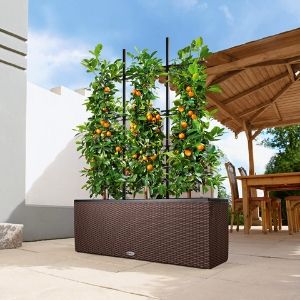 The optional TRIO trellis lets you create a green privacy screen in an instant. The TRIO trellis with adjustable cross braces (TRIO 30 comes with three; TRIO 40 with four) and plant clips
Magnificent tomatoes and even home grown gourmet vegetables will feel right at home here.
The LECHUZA sub-irrigation system's integrated water reservoir reliably cares for your plants in this modern "mini garden", even at
the hottest points of the year.
Special features:
Self-watering planter with a rattan finish
3 removable planter liners with water level indicators
3 high-quality pure mineral plant substrates included
For outdoor and indoor use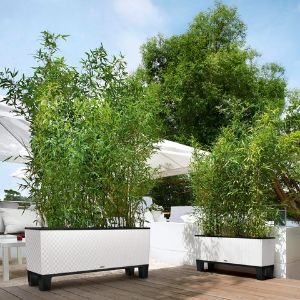 The optional TRIO pedestals are the perfect addition.
Lift the planter 6 inches off the ground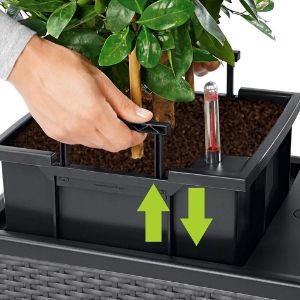 Planter liner
- sturdy carrying handles pull out from the rim
- easily transport tall plants
- can be exchanged on the spot and easily moved for winter storage
- Drain plug can be removed to allow excess rainwater to drain away when used outdoors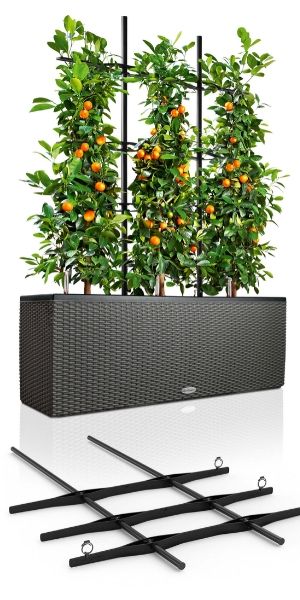 Available Accessories:

Trellis
- secure support for climbing plants, shrubs and vegetables
- adjustable cross braces (TRIO 30 comes with three; TRIO 40 with four) and plant clips
- the optional TRIO trellis lets you create a green privacy screen in an instant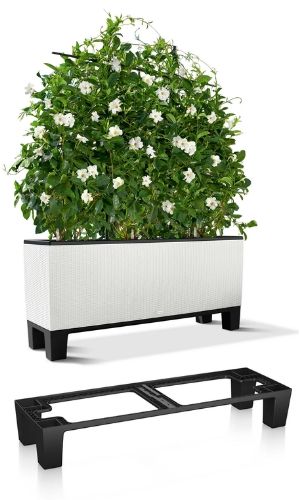 Available Accessories: Pedestals
- Raise TRIO 30 and 40 by 15 cm
- Available in two sizes for TRIO 30 and 40
Dimensions & Capacity
| | | |
| --- | --- | --- |
| | TRIO Cottage 30 | TRIO Cottage 40 |
| Dimensions ~ (W x D x H) | 100 x 32,5 x 34,5 cm | 129,5 x 42 x 44 cm |
| Water reservoir | 4 l (3x) | 7,5 l (3x) |
| Plant volume | 14 l (3x) | 31 l (3x) |
| Planter liner, dimension ~ | 25 x 25 cm (3x) | 34,5 x 34,5 cm (3x) |
| Planting depth | 23 cm | 28 cm |
| Plant height max. | 80 cm | 100 cm |