Its tall, slim structure adds lots of style without swallowing valuable floor space making them ideal space savers for small gardens and balconies.
What's more, the minimalist design lets your garden and plants do the talking, which is vital in a cramped space
In addition, they are ideal for creating beautiful socially distanced partitions, hiding an eyesore or creating a privacy screen. The Lechuza CARARO lets you blend beautiful architectural elements with arractive greenery.
Allows for a large plant volume for dense and tall plantings
They are the perfect way to segregate areas within a building or room, without having to build a permanent structure.
CARARO Self Watering Planters aid Social Distancing Measures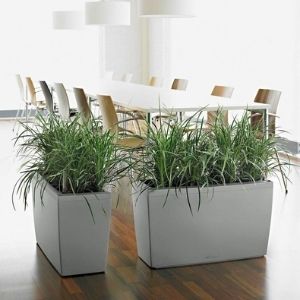 Cararo planters are being used across the country to help create safe socially distanced spaces, aiding zoning, partitioning and sectioning in the workplace and in hospitality venues such as restaurants and cafes.
A great feature of the CARARO are the integrated rollers, which are hidden underneath, The roller set allows the Cararo to be easily moved for maintenance and cleaning.
Cararo acts as an effective healthy, green, physical barrier to ensure that a safe distance can be maintained in a way that looks and feels natural.
Integrated Self-Watering System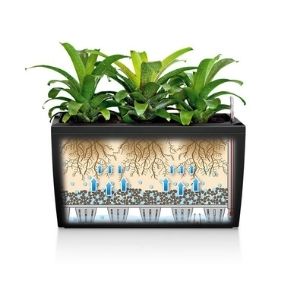 Like all Lechuza planters, they come complete with an integrated self-watering system. Never over or under water your plants again!
The easy-to-use self-watering system ensures plants last and thrive both indoors and out. It ensures plants receive the exact amount of water and nutrients they need for optimum growth for up to 12 weeks (ideal for those who travel regularly).
Water is added via a reservoir, eliminating the possibility of over watering. The reservoir sits below the soil and plants take up only what they actually need, taking all the guesswork out of watering.
One big advantage of the Lechuza planters is that they come with the Lechuza Pon, which is Lechuza's way of making sure your plants don't drown. The special substrate sits between the soil and the actual water reservoir, thereby delivering water to the plants evenly.
Product information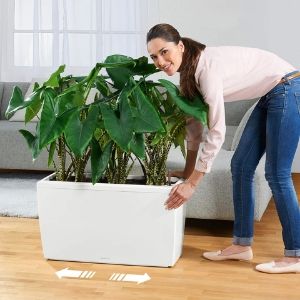 Includes CARARO rollers (2 pieces)
- with sturdy rollers
- mobile in two directions
- makes CARARO mobile – without being seen
New to caring for indoor plants? Take a look at our top tips for easy indoor plant growing.
Dimensions & Capacity
CARARO
| | |
| --- | --- |
| Dimensions ~ (W x D x H) | 75 x 30 x 42,5 cm |
| Water reservoir | 10 l |
| Plant volume | 52 l |
| Planter liner, dimension ~ | 69 x 23,5 cm |
| Planting depth | 27 cm |
| Plant height max. | 80 cm |