Easily grow beautiful plant displays with minimal maintenance with these self-watering CLASSICO Color planters. A great choice for foliage and flowering plants in either the home or garden.

Made from lightweight weatherproof resin with a stylish silken finish, each planter comes complete with a matching liner, 0.8L reservoir with a water level indicator and overflow valve with plug.

For outdoor use the draining plug can be removed to ensure any excess water drains away. To make life even easier, the removable liner lets you lift out the plant for repotting, trimming roots or rinsing leaves.

Never over or under water your plants again!
Complete with an easy-to-use self-watering system for perfect plants that last and thrive both indoors and out. This ensures plants receive the exact amount of water and nutrients they need for optimum growth for up to 12 weeks. Water is added via a reservoir, eliminating the possibility of over watering.
The reservoir sits below the soil and plants take up only what they actually need, taking all the guesswork out of watering.
One big advantage of the Lechuza planters is that they come with the Lechuza Pon, which is Lechuza's way of making sure your plants don't drown. The special substrate sits between the soil and the actual water reservoir, thereby delivering water to the plants evenly.
Product information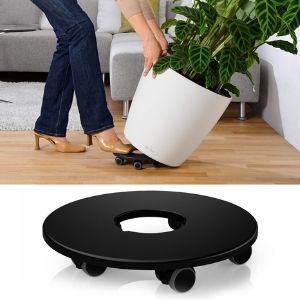 Available Accessories:

Coaster
- mobile in every direction
- with sturdy rollers
- makes CLASSICO mobile – without being seen
for sizes 60, 70
Dimensions & Capacity
| | | | | | |
| --- | --- | --- | --- | --- | --- |
| | CLASSICO Color 18 | CLASSICO Color 21 | CLASSICO Color 28 | CLASSICO Color 35 | CLASSICO Color 43 |
| Dimensions ~ (W x H) | Ø 19 x 17 cm | Ø 21,5 x 20,5 cm | Ø 27,5 x 26 cm | Ø 34,5 x 32,5 cm | Ø 42,0 x 39,5 cm |
| Water reservoir | 0,6 l | 0,8 l | 2 l | 3,7 l | 6 l |
| Plant volume | 2,5 l | 5 l | 9 l | 17 l | 33 l |
| Planter liner, dimension ~ | Ø 18 cm | Ø 21 cm | Ø 27 cm | Ø 33,5 cm | Ø 41 cm |
| Planting depth | 11 cm | 13,5 cm | 17,5 cm | 22,5 cm | 26,5 cm |
| Plant height max. | 30 cm | 50 cm | 70 cm | 90 cm | 100 cm |