Lechuza CLASSICO Large Tree Planter
The CLASSICO 60 and 70 are the ultimate self watering planter for larger interior and exterior specimen plants, shrubs and trees.
The 60 and 70cm diameter have been used by the interior plant industry for a number of years for restaurants, hotels, offices and other commercial settings. We are now able to make them available for private clients, who wish to provide their larger specimens and trees with a self watering system.
Seven striking colours make them a stylish addition to enhance any setting, as well as the health and longevity of your plants.
Never over or under water your plants again!
Complete with an easy-to-use self-watering system for perfect plants that last and thrive both indoors and out. This ensures plants receive the exact amount of water and nutrients they need for optimum growth for up to 12 weeks.
Water is added via a reservoir, eliminating the possibility of over watering. The reservoir sits below the soil and plants take up only what they actually need, taking all the guesswork out of watering.
One big advantage of the Lechuza planters is that they come with the Lechuza Pon, which is Lechuza's way of making sure your plants don't drown. The special substrate sits between the soil and the actual water reservoir, thereby delivering water to the plants evenly.
Product information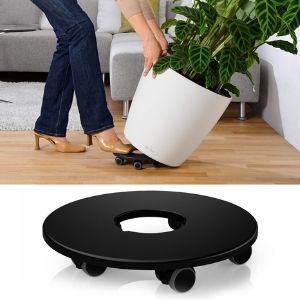 Available Accessories: Coaster
- mobile in every direction
- with sturdy rollers
- makes CLASSICO mobile – without being seen
for sizes 60, 70
Dimensions & Capacity
| | | |
| --- | --- | --- |
| | CLASSICO 60 | CLASSICO 70 |
| Dimensions ~ (W x H) | Ø 23.6 x 21.9 inch | Ø 27.6 x 25.4 inch |
| Water reservoir | 4.5 US.liq.gal | 7.0 US.liq.gal |
| Plant volume | 20.4 US.dry.gal | 32.9 US.dry.gal |
| Planter liner, dimension ~ | Ø 22.5 inch | Ø 26,4 inch |
| Planting depth | 15 inch | 18 inch |
| Plant height max. | 55 inch | 67 inch |