The CUBE Cottage features the popular rattan finish, perfect for decorating any corner of the house, terrace, balcony or garden. The cube shape makes it ideal for plants with a large root volume.
For outdoor use, you simply need to remove the drainage plugs so that the rain water drains itself automatically.
Complete with an easy-to-use self-watering system for perfect plants that last and thrive both indoors and out. Never over or under water your plants again! The self-watering system ensures plants receive the exact amount of water and nutrients they need for optimum growth for up to 12 weeks. Water is added via a reservoir, eliminating the possibility of over watering. The reservoir sits below the soil and plants take up only what they actually need, taking all the guesswork out of watering.
One big advantage of the Lechuza planters is that they come with Lechuza Pon, which is Lechuza's way of making sure your plants don't drown. The special substrate sits between the soil and the actual water reservoir, thereby delivering water to the plants evenly.
Special features:
Self-watering planter with wicker style
Removable planter liner with water level indicator
High-quality plastic with matte surface
High-quality pure mineral plant substrate included
For outdoor and indoor use
Product information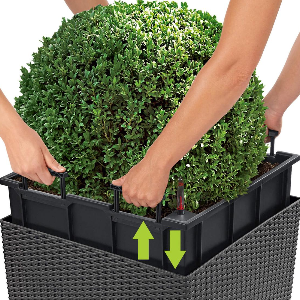 planter liner
- sturdy carrying handles (patented)
- easy to transport even for tall plantings
- can be exchanged on the spot and easily moved for winter storage
- The CUBE 40 planter liner also fits in the CUBICO 40 and TRIO 40.
- drain plug: is removed to allow excess rainwater to drain when used outdoors
Product information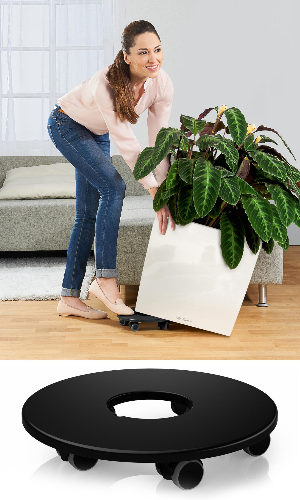 Available accessories: coaster
- mobile in every direction
- with four sturdy rollers
- available for CUBE 50
Dimensions & Capacity
| | | | |
| --- | --- | --- | --- |
| | CUBE Cottage 30 | CUBE Cottage 40 | CUBE Cottage 50 |
| Dimensions ~ (W x D x H) | 29,5 x 29,5 x 30 cm | 39,0 x 39,0 x 40 cm | 49 x 49 x 49,5 cm |
| Water reservoir | 3 l | 7,5 l | 14 l |
| Plant volume | 12 l | 31 l | 61 l |
| Planter liner, dimension ~ | 25,5 x 25,5 cm | 34,5 x 34,5 cm | 44 x 44 cm |
| Planting depth | 20 cm | 28 cm | 32 cm |
| Plant height max. | 60 cm | 100 cm | 160 cm |