The Lechuza CUBE planter range is attractive and compact, ideal for large and tall plants, making them feel right at home. The self-watering system ensure plants receive the exact amount of water they need for optimum growth. Expect thriving and flourishing plants, the self-watering system lets you enjoy beautiful plants effortlessly and the attractive shapes of the planters are the perfect accent for your home, office and garden.
One big advantage of the Lechuza planters is that they come with the Lechuza Pon, which is Lechuza's way of making sure your plants don't drown. The special substrate sits between the soil and the actual water reservoir, thereby delivering water to the plants evenly.
LECHUZA planters feature all of the advantages you've come to know and expect from LECHUZA. They are light-weight, UV resistant, frost- proof and weatherproof. This self-watering planter has a water reservoir that supplies your plants with the exact amount of water they need. Just fill up the LECHUZA water reservoir and your plant will become self sufficient!
Special features:
Self-watering planter with water level indicator
Removable planter liner
High-quality plastic with metallic or glossy surface
High-quality pure mineral plant substrate included
For outdoor and indoor use
Product information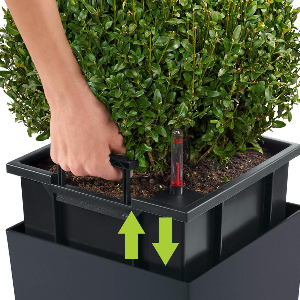 planter liner
- sturdy carrying handles (patented)
- easy to transport even for tall plantings
- can be exchanged on the spot
- easily moved for space-saving winter storage
- The CUBE 30 planter liner also fits in the CURSIVO 30.
- The CUBE 40 planter liner also fits in the CUBICO 40, CUBICO Alto and TRIO 40.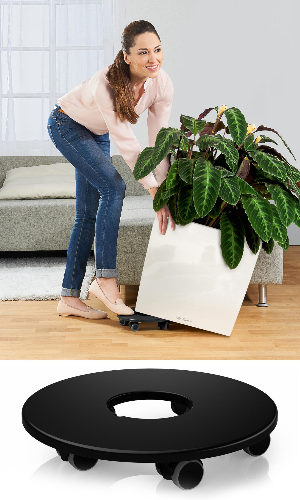 Available accessories: Coaster
- mobile in every direction
- with four sturdy rollers
- available for CUBE 50
Dimensions & Capacity
| | | | |
| --- | --- | --- | --- |
| | CUBE 30 | CUBE 40 | CUBE 50 |
| Dimensions ~ (W x D x H) | 29,5 x 29,5 x 30 cm | 39,0 x 39,0 x 40 cm | 49 x 49 x 49,5 cm |
| Water reservoir | 3 l | 7,5 l | 14 l |
| Plant volume | 12 l | 31 l | 61 l |
| Planter liner, dimension ~ | 25,5 x 25,5 cm | 34,5 x 34,5 cm | 44 x 44 cm |
| Planting depth | 20 cm | 28 cm | 32 cm |
| Plant height max. | 60 cm | 100 cm | 160 cm |