One planter - multiple looks.
Transforming a room into a dynamic and beautiful space can be a challenge and often expensive, especially when trying to match your planters to your colour scheme
Lechuza have the answer with its CUBE Glossy collection. This eye-catching range brings modern glamour to any area in the home. Available in white, scarlet red and charcoal, each one not only looks stylish but is also convenient with the integrated self-watering system which ensure plants are never under or over watered.
The kitchen is a space of creativity, good food and fun time spent with the family.
Breathe new life into the kitchen, use the CUBE Glossy triple as a stand-alone
feature on the worktop.
Designed with high-quality lacquered surfaces, these planters will give your kitchen an
elegant touch and make a real statement – as well as beautifying your plants.
Each self-watering planter comes with an integrated water level indicator which tells you when it's time for a re-fill, leaving you
without the watering guesswork for weeks at a time.
This means that plants achieve optimum growth and health, eliminating the possibility of over or under-watering, even whilst on holiday.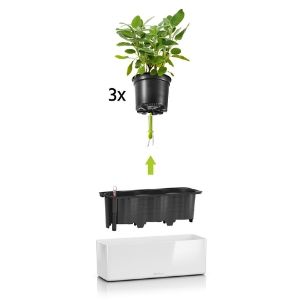 So easy with minimal maintenance. Plants are placed into the planters in their existing pots, eliminating the need for repotting.
The wick is inserted into the bottom, and this transports moisture and nutrients from the reservoir to the roots, as and when the plant
needs it, never over or under watering.
Also, the integrated water level indicator tells you when it's time for a re-fill, leaving you without the watering
guesswork for weeks at a time.
Create an instant indoor jungle which will create a real focal point in any sized living space.
The CUBE Glossy triple is compatible with the Lechuza Green Wall Home Kit which includes
three planters in various sizes. Also in the kit are three brackets and one wall bar, which
provides a secure hold with strong magnets.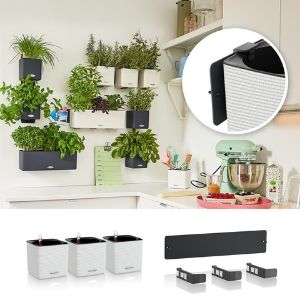 It's never been so easy.
The brackets are magnetised and the lightweight metal bar provides a secure
hold for the entire contents: the planters, plant and water on any wall.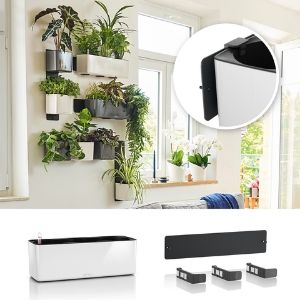 Available Accessories
- Metal bar: 48 x 10 cm
- Magnetic brackets: 4 x 14 cm
New to caring for indoor plants? Take a look at our top tips for easy indoor plant growing.