Create an instant living herb wall or a jungle of greenery in a flash.
The Lechuza Green Wall Home Kit, includes three planters, three practical, magnitised brackets and one lightweight wall bar, which provides a secure hold. The flexibility of this self-watering kit is limitless as there is the option to mix and match colours or add other planters onto the wall later down the line.
Bringing nature into your home with a green wall of your favourite indoor plants where ever you want it, and with minimal maintenance.
They are also ideal for displaying your favourite herbs on the wall, allowing you to save counter space.
Each CUBE has its own removable planter liner, water level indicator and wick to provide your plants with the exact amount of water they need for optimum growth.
Assembly is so easy thanks to the practical magnetic brackets. The high quality, extra strong magnets ensure the planters are held on securely.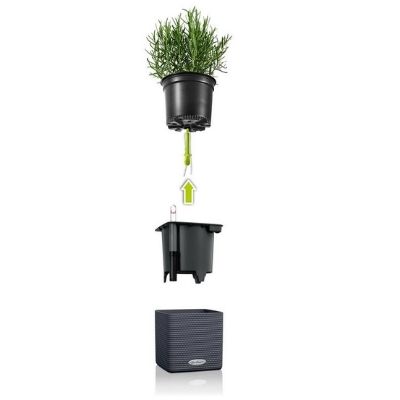 So easy with minimal maintenance. Plants are placed into the planters in their existing pots, eliminating the need for repotting.
The wick is inserted into the bottom, and this transports moisture and nutrients from the reservoir to the roots, as and when the plant
needs it, never over or under watering.
Also, the integrated water level indicator tells you when it's time for a re-fill, leaving you without the watering guesswork for weeks at a time.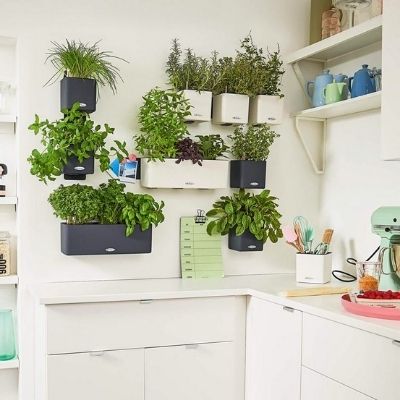 Basic CUBE planters can also be used as stylised holders for make-up and toiletries in the bathroom or for stationery in the office or children's bedrooms.
CUBE Color 14 and CUBE Color Triple are also part of the brand new collections, compatible with the Green Wall system, offering more room for your favourite flowers, herbs or small shrubs – ideal for adding a statement to any
windowsill or side table.
Not sure which plants work best with indoor vertical planting? Check out our guide to the best plants for indoor living walls.
New to caring for indoor plants? Take a look at our top tips for easy indoor plant growing.