Lechuza PURO 20 Self Watering Ball Pots
These stylish pots will show your plants off to their full advantage. Its sleek, modern finish combined with their classic spherical shape serve as a beautiful centerpiece for
your plants and flowers.
The smooth, textured finish gives the illustion that container is covered with fabric.
As will all Lechuza container, PURO features an integrated self watering system that will provide your plants with the optimum amount of water they need to last and thrive..
The interior reservoir can store enough water for a week making them ideal for frequent travellers. The water level indicator allows you to observe the water level at any time.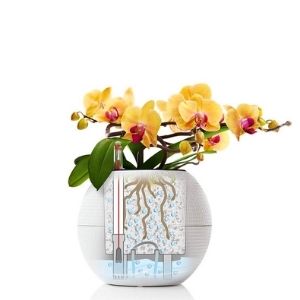 One big advantage of the Lechuza planters is that they come with Lechuza Pon, which is Lechuza's way of making sure your plants don't drown.
The special substrate sits between the soil and the actual water reservoir, thereby delivering water to the plants evenly.
This size is suitable for plants in maximum nursery pot size Ø 12 cm.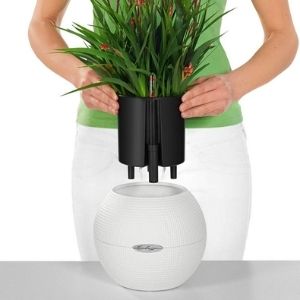 Removable Liner
Makes changing plants a breeze!
Dimensions and Capacity
LECHUZA-PURO Color 20
| | |
| --- | --- |
| Dimensions ~ (W x H) | Ø 20 x 16 cm |
| Water reservoir | 0,5 l |
| Plant volume | 1,2 l |
| Planter liner, dimension ~ | Ø 12 cm |
| Planting depth | 12 cm |
| Plant height max. | 30 cm |