The classic shape of the delicate Rondo planter shows off plants to their best advantage and puts them in the best light.
As with the Premium LS Classico and Delta models, the Rondo offers the added advantage of an integrated removable liner, which makes changing plants easier than ever.
The clever colour-coordinated frame handle allows it to slide back into the planter after use, blending seamlessly into the rim. This is not only convenient, but it also underscores the planter's superior design. Staged like sculptures, the Rondo beautifies living and business spaces, like green works of art.
Reduce maintenance with self-watering containers that extend the time between watering.
Never over or under water your plants again!
Complete with an easy-to-use self-watering system for perfect plants that last and thrive both indoors and out. This ensures plants receive the exact amount of water and nutrients they need for optimum growth for up to 12 weeks.
Water is added via a reservoir, eliminating the possibility of over watering. The reservoir sits below the soil and plants take up only what they actually need, taking all the guesswork out of watering.
The unique advantages:
Timeless, elegant design that matches the CLASSICO family of planters
Perfect shape for a variety of plants and interior layouts
Special features:
Self-watering planter with water level indicator
Removable planter liner
High-quality plastic with metallic or glossy surface
High-quality pure mineral plant substrate included
For outdoor and indoor use
Product Information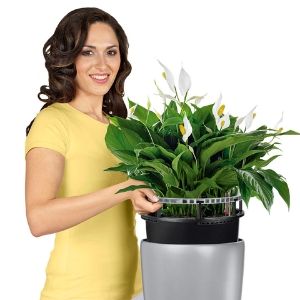 Planter liner
- recessed colour-coordinated frame handles
- easy to transport even with tall plants
- can be exchanged on the spot
- easily moved for space-saving winter storage
Dimensions and Capacity
| | | |
| --- | --- | --- |
| | RONDO 32 | RONDO 40 |
| Dimensions ~ (W x H) | Ø 32,5 x 56,5 cm | Ø 40 x 75 cm |
| Water reservoir | 4,0 l | 5,6 l |
| Plant volume | 13 l | 22 l |
| Planter liner, dimension ~ | Ø 27,5 cm | Ø 33,5 cm |
| Planting depth | 23 cm | 26,5 cm |
| Plant height max. | 60 cm | 100 cm |