Quadro Premium Self-Watering Planter
The Lechuza QUADRO LS boasts a sophisticated design with high plant volume.
This square floor planter's sleek design is the perfect addition to any modern interior landscapes.
QUADRO is light, frost and UV resistant and therefore suitable for indoor and outdoor use.
The high-quality lacquering of the surface gives the planter a high-gloss shine. Comes completely with the liner and self-watering system. Available in 5 different sizes.
Never over or under water your plants again!
Complete with an easy-to-use self-watering system for perfect plants that last and thrive both indoors and out. This ensures plants receive the exact amount of water and nutrients they need for optimum growth for up to 12 weeks. Water is added via a reservoir, eliminating the possibility of over watering.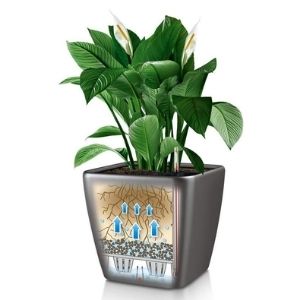 The reservoir sits below the soil and plants take up only what they actually need, taking all the guesswork out of watering.
One big advantage of the Lechuza planters is that they come with the Lechuza Pon, which is Lechuza's way of making sure your plants don't drown. The special substrate sits between the soil and the actual water reservoir, thereby delivering water to the plants evenly.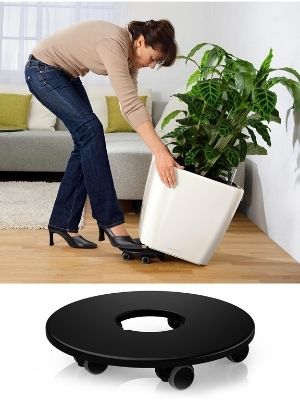 Available Accessories:

Coaster
- mobile in every direction
- with sturdy rollers
- makes QUADRO mobile – without being seen
- for sizes 43, 50
Dimensions and Capacity
| | | | | | |
| --- | --- | --- | --- | --- | --- |
| | QUADRO LS 21 | QUADRO LS 28 | QUADRO LS 35 | QUADRO LS 43 | QUADRO LS 50 |
| Dimensions ~ (W x D x H) | 22,5 x 22,5 x 20,5 cm | 28 x 28 x 26 cm | 35,5 x 35,5 x 32,5 cm | 43 x 43 x 39 cm | 50 x 50 x 46,5 cm |
| Water reservoir | 1,1 l | 2,5 l | 4,5 l | 9,7 l | 14,5 l |
| Plant volume | 4 l | 9 l | 17 l | 32 l | 53 l |
| Planter liner, dimension ~ | 18,5 x 18,5 cm | 23,5 x 23,5 cm | 29,5 x 29,5 cm | 36,5 x 36,5 cm | 43 x 43 cm |
| Planting depth | 13,5 cm | 17,5 cm | 22,5 cm | 26,5 cm | 31,5 cm |
| Plant height max. | 50 cm | 70 cm | 90 cm | 100 cm | 120 cm |