Superior Wooden Raised Beds
These quality superior wooden raised beds provide the optimum conditions for you to grow your own fruit, vegetables and herbs.
With our range of sizes and heights, you'll find a wooden raised bed to suit your needs.
Benefits:
Increased comfort - raising beds makes gardening more comfortable by requiring less bending and stooping
Plant earlier in the year - soil in a raised bed will warm up faster than in the ground
Perfect for use with frames and netting - the best start for new plants and growth
Less digging - raised beds won't let soil become compacted and can help with drainage and avoiding waterlogged soil
Product Information:
Available in 4 heights - from 20cm/8" to 81cm/32" deep - and 10 sizes.
Complete raised bed kits include pre-drilled planks, internal wooden corner fixing posts, galvanised screws and full instructions.
Optional capping gives top of beds an elegant finish
Standard Raised Beds made from quality 3.5cm/1.4" thick Scandinavian softwood timber planks from sustainably managed forests.
High pressure treated with a non-toxic preservative
Preservative helps ensure best possible resistance to fungal decay and wood-boring insects
This product is supplied as a kit for self assembly
N.B. Images show standard raised beds with capping.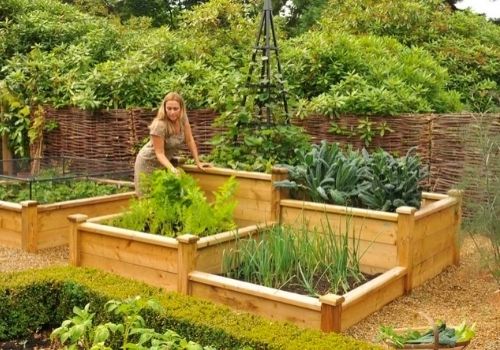 The layout shown above is based around a large 1.2m/4ft x 1.2m/4ft bed, 4 tiers high. The additional planks and posts are then joined to this first bed to create the design as shown.
To achieve this layout you will require the following parts:-
1 x GDN-47444C4T - Superior Raised Bed 4ft x 4ft - 4 tiers high with capping
To create the 3 tier bed:-
9 x GDN-583 - 4ft planks
2 x GDN-592 - 24" 3 Tier posts
2 x GDN-594 - Post Caps
3 x GDN-587 - 4ft Capping
To create the 2 tier bed:-
6 x GDN-583 - 4ft planks
2 x GDN-591 - 16" 2 Tier posts
2 x GDN-594 - Post Caps
3 x GDN-587 - 4ft Capping
To create the single tier bed:-
2 x GDN-583 - 4ft planks
1 x GDN-590 - 8" 1 Tier posts
1 x GDN-594 - Post Cap
2 x GDN-587 - 4ft Capping