£475.00 Made to order in the UK. Production time 6 - 8 weeks
Made to Order in the UK. Delivery can take up to 4 weeks.
Please call 01752 822782 for availability
Description
Choose GRP Planters For a Modern Style to suit Your Contemporary Setting

If you intend to postition your living green screens against a wall or fence then you will not need posts. We recommend fixing your screen to the fence or wall using our specialist wall brackets for extra support.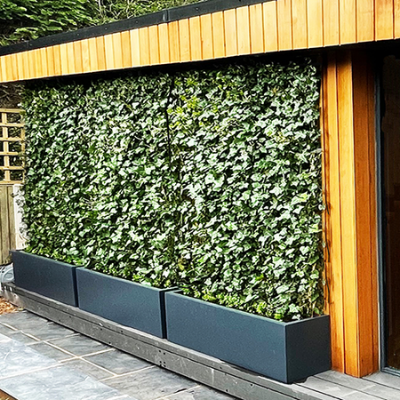 Benefits fo GRP Fibreglass
GRP Fibreglass is made from recyclable materials and is increasingly becoming the first choice of designers and landscapers for indoor & outdoor in homes and businesses.
GRP offers a number of advantages over other planter materials.
The main advantage of using Fibreglass GRP Mouldings over other material alternatives is its undeniable strength combined with lightness making them ideal for Balcony and Roof garden projects, as well as interior home and business settings.
Bespoke services available. Feel free to get in touch for a bespoke quote for your requirements.

PLEASE NOTE - Bespoke GRP Troughs are made-to-order in UK and can take up to 4 weeks from order.
More Information
Features
Options
D