Create Amazing Self Watering Vertical Gardens - Set of 5 Troughs
Living walls, or vertical gardens, once the domain of designer commericial sites, living walls can now be easily installed in residential gardens and homes.
Introducing PlantBox. An intelligent, truly low maintenance self-watering living wall system designed for rapid assembly,. Freestanding or wall mounted, this system is designed for residential and commercial settings, from balconies and courtyards to patios and hoardings.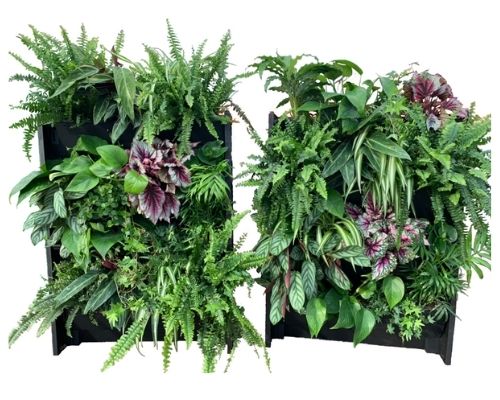 The modular troughs can be rapidly put up by clicking and stacking them together and then easily attached or restrained to almost any vertical surface, including courtyard or boundary walls, fence uprights, balcony railings, roof gardens, patios, terraces or conservatory walls.
PlantBox can be used to grow everything from herbaceous perennials, grasses, herbs and even fruit and vegetables can be used. Try including scented plants, seasonal flowers and bulbs.
The PlantBox 5 trough system will enhance any space and make a dramatic effect. Ideal for small spaces where floor space is limited.
Measuring 120cm across and 1 metre tall, this living wall is impactful no matter the size of your space. Note the troughs can also be clipped on top of each other to create a tall living wall measuring 2m tall and 60cm width. PlantBox vertical gardens are super low maintenance.
Thanks to the inbuilt 1.8 litre water reservoir, your plants will receive the optimum amount of water they need for maximum growth for a week. No daily watering. Eliminates all the guesswork of watering, never over or underwater again.
There is a water level indicator that shows E = Empty and F= Full letting you know when it's time to refill.

The integrated internal reservoir and filter ensure that soil does not clog up the water tank. Water is obtained by the plant by a capillary wick that extends into both the water reservoir and planting area.
Each trough measures 60cm x 200cm x 15cm and stacked together using study clips. Each trough will fit four 1L pot plants and 7L of compost.
-
Supplied in kit form for self-assembly.
PlantBox is manufactured in the UK using 100% UK recycled materials, UV resistant and built to last for years.
Please note: Plants and wall fixings are not included.
Not sure which plants work best in vertical planting? Check out our guide to the best plants for living walls.
Specifications
| | |
| --- | --- |
| Unit dimensions | 600mm x 200mm x 150mm |
| Fully loaded weight | 70kgs per m2 |
| Base material | 100% recycled organic materials |
| Trough depth | 200mm |
| Reservoir capacity | 1.8L |
| Pot size | Anything up to 1ltr pots |
| Design life | +10 years |
| Substrate type | Peat free multi-use compost |
| Fixings | 2 fixings per 600mm height |
| Nutrient feed | Slow release pellet or liquid |