Call 01752 822782 for availability
Description
Lechuza DELTINI
Lechuza DELTINI self-watering planter is perfect growing fresh herbs or beautiful blooming plants such as orchids and dwarf roses.
The DELTINI comes equipped with Lechuza's signature self watering system which features a water reservoir that supplies water to your plants as needed.
Users can easily monitor the water reservoir levels with the planter's water-level indicator, which shows when the reservoir needs topping up, taking the guesswork out of watering.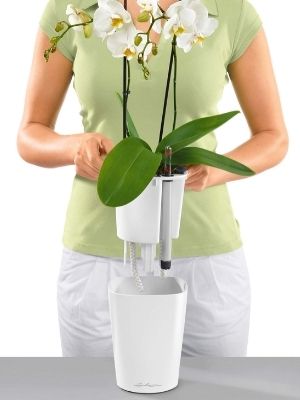 Planter liner
planter liner in the same colour as the planter
can be exchanged on the spot
change plants, repot them, trim the roots or rinse the leaves
an attractive gift that already comes "gift wrapped"
comes with sufficient LECHUZA PON plant substrate to begin planting right away
Dimensions & Capacity
| | | |
| --- | --- | --- |
| | MINI-DELTINI | DELTINI |
| Dimensions ~ (W x D x H) | 10 x 10 x 13 cm | 15 x 15 x 19 cm |
| Water reservoir | 0,2 l | 0,5 l |
| Plant volume | 0,4 l | 1,2 l |
| Planter liner, dimension ~ | 8,5 x 8,5 cm | 12,5 x 12,5 cm |
| Planting depth | 7,5 cm | 11,5 cm |
| Plant height max. | 20 cm | 30 cm |
More Information
Features
Options
D