Add long-lasting colour, height and interest to your patio or front door with these beautiful hanging baskets from Lechuza.
The interior self watering system works hard to ensure your plants receive the exact amount of water they need for optimum growth.
The attractive high-quality rattan, wicker-like finish brings life and a touch of country charm to your outdoor space.
Never over or under water your plants again! Complete with an easy-to-use self-watering system for perfect plants that last and thrive both indoors and out. This ensures plants receive the exact amount of water and nutrients they need for optimum growth for up to 12 weeks. Water is added via a reservoir, eliminating the possibility of over watering. The reservoir sits below the soil and plants take up only what they actually need, taking all the guesswork out of watering.
One big advantage of the Lechuza planters is that they come with the Lechuza Pon, which is Lechuza's way of making sure your plants don't drown. The special substrate sits between the soil and the actual water reservoir, thereby delivering water to the plants evenly.
Special features:
Self-watering planter with wicker style
Removable planter liner with water level indicator
High-quality plastic with matte surface
High-quality plant substrate and stainless-steel hanger included
For outdoor and indoor use
Product information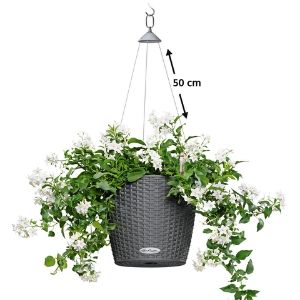 NIDO Cottage sturdy stainless steel hanger
sturdy
supports: 15 kg
stainless


Our tip: NIDO also doubles as a table planter on flat surfaces.
Grow Your Own
Hanging baskets make a fun, attractive container for growing vegetables, herbs or fruit. You don't even need a garden!
They are ideal for growing strawberry, tomatoes and other trailing plants.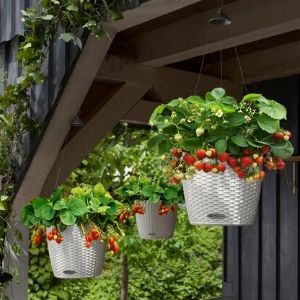 Want to know more about growing you own fruits, salad, herbs and vegetables? Take a look at our Grow Your Own page.
Dimensions & Capacity
| | |
| --- | --- |
| Dimensions ~ (W x H) | Ø 27 x 23 cm |
| Water reservoir | 1,9 l |
| Plant volume | 6 l |
| Planter liner, dimension ~ | Ø 24 cm |
| Planting depth | 15 cm |
| Plant height max. | 30 cm |