Orchids are incredibly popular but many fail or are damaged by incorrect watering. The most common mistake that people make is giving orchids more water than they need, and then you start getting into waterlogged
situations that cause root rot.
The Lechuza Orchidea plant pot is specifically designed to meet the high demands of Orchids and similar varieties including Phalaenopsis and Dendrobium by cleverly mimicking their natural environment.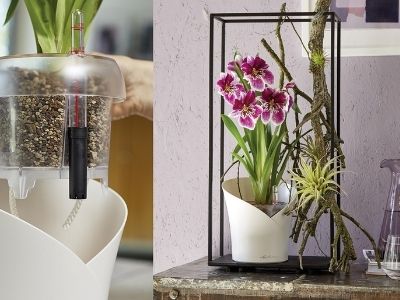 The transparent, removable inner-pot provides the roots with plenty of light and the specially developed orchid substrate ensures a perfect water and air supply balance, to prevent waterlogging, proper nutrient retention and a constant PH level.
With ORCHIDEA, you're an orchid expert! With a single glance at the water level indicator, you can check how much water is available in the reservoir and whether it needs a top up. Waterlogging, which orchids do not tolerate and which often causes problems during maintenance, can thus be easily avoided. Its striking curved shape resembles a delicate petal and is a must-have for all orchid enthusiasts.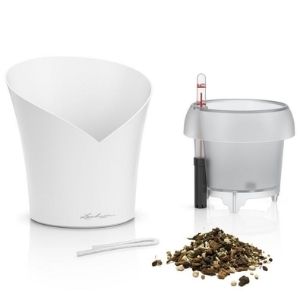 The three classic matte colours, white, scarlet red and slate grey, enhance the beautiful shades of these stunning plants and fit into any living environment.
Dimensions & Capacity
| | |
| --- | --- |
| Dimensions ~ (W x D x H) | 18,3 x 17,9 x 19,5 cm |
| Water reservoir | 0,3 l |
| Plant volume | 1 l |
| Planter liner, dimension ~ | Ø 12 cm |
| Planting depth | 10 cm |
| Plant height max. | 30 cm |