Grow and behold! Transform your windowsill into a brilliant herb garden. Grow your own fresh, organic herbs and spices all year round with these smart, especially stylish, self watering herb planters that will fit right into your home decor.
Made for those who don't have a green thumb, this planter gives your herbs and flowers a responsive home allowing them to self-generate thanks to the smart wick self-watering system. Bonus!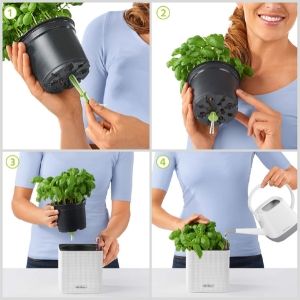 The CUBE Color 14 is ideal for all standard herb pots (10-12 cm diameter).
Using the wick irrigation system for this herb planter, the wick will draw water
up into the soil of each plant providing your plants with the exact amount of
water they need . You'll never have to deal with wilting, dried out herbs again!
Best of all, you can fit the pot supplied by the the nursery straight into the cube, so you don't have to repot. These cute little pots will produce fresh herb in whichever sunny windowsill you add them to.
Special features:

Self-watering planter with stick irrigation system
Water level indicator
Plants can easily be placed in this planter without the need for repotting
High-quality plastic with matte surface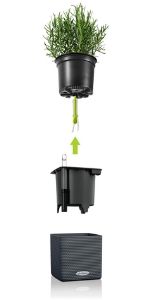 New system
- With wick irrigation system
- No repotting necessary - simply place store-bought herbs with grow pot in the planter
- Food safe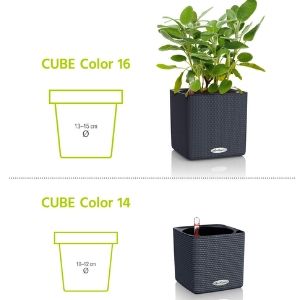 Available in 2 sizes
- CUBE Color 16: For all herb grow pots with a 13 - 15 cm Ø.
- CUBE Color 14: For all herb grow pots with a 10 - 12 cm Ø.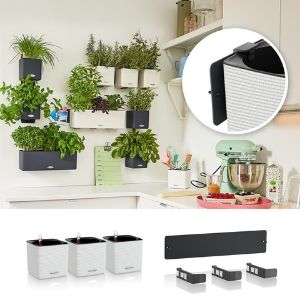 - Practical and space-saving. With the Green Wall Home Kit Color starter set, your beloved herb pots will find room in even the smallest kitchen.

- 3 × Planters with liner (CUBE Color 14) + wicks + 3 × magnetic holder + metal bar + screws
- Metal bar: 48 x 10 cm
- Magnetic brackets: 4 x 14 cm
Grow Your Own
Lechuza CUBE Colour is perfect for growing fresh herbs on your windowsill.

The self watering sytem takes care of your plants so they grow back again and again.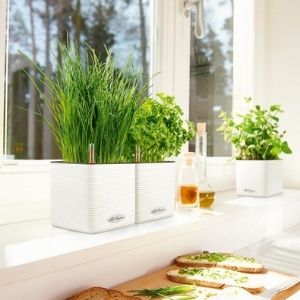 Want to know more about growing your own fresh fruit, salad, herbs and vegetables? Visit our Grow Your Own page.