Choose GRP Planters For a Modern Style to suit Your Contemporary Setting
For projects that require freestanding containers, living green screens fabricated to include post support inserts.
You or your installer can then insert posts in the supports to attach your living screen to.
(Posts not included - Call for local post suppliers)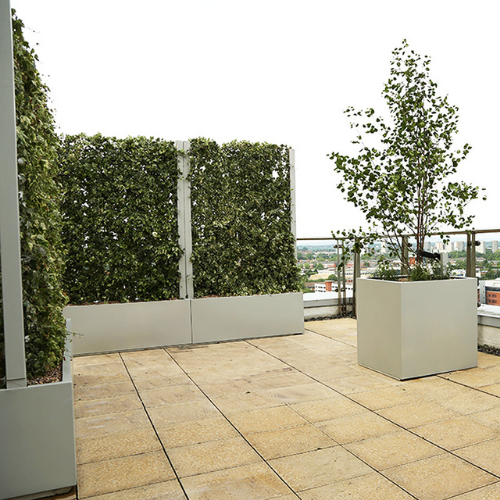 The screens can be attached to the posts fence with our specialist galvanised post brackets, as shown below:
NOTE: Posts (75 x 50mm) not supplied, as they are far cheaper from your local timber, merchant.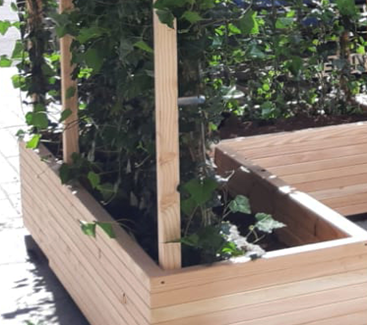 You will require two galvanised post brackets per post.
One 20-25cm from the top up the post, the second 60-65 cm above the compost
Alternatively use either :

3 heavy duty cable ties, or 3 velcro tree ties or 3 heavy duty galvanised staples per post.
All are available from garden centres or from Amazon.
Amazon links
Velcro tree ties – click HERE 30 mm heavy duty cable ties – click HERE Galvanised staples – click HERE


Choose GRP Planters For a Modern Style to suit Your Contemporary Setting
GRP Fibreglass is made from recyclable materials and is increasingly becoming the first choice of designers and landscapers for indoor & outdoor in homes and businesses.

GRP offers a number of advantages over other planter materials.

The main advantage of using Fibreglass GRP Mouldings over other material alternatives is its undeniable strength combined with lightness making them ideal for Balcony and Roof garden projects, as well as interior home and business settings.

Bespoke services available. Feel free to get in touch for a bespoke quote for your requirements.

PLEASE NOTE - Bespoke GRP Troughs are made-to-order in UK and can take up to 6 - 8 weeks for delivery.