Benefits of Self Watering Planters
Promotes Healthy Root Growth
A common problem gardeners face is shallow plant root growth, due to shallow watering. Many plants cannot achieve maximum growth without proper root growth, which is essential for the optimum uptake of water and minerals.

The Lechuza self-watering planters provide a highly effective way to enable deep rooting in well aerated moist
compost, without being concerned about root rot, which results in plant death.

Even better, with the aid of a simple water level indicator, your compost never needs to dry out, which is a common
problem for most container plant growers. A better root system results in larger, healthier, longer living plants.

Convenience
With Lechuza planters, the need for daily watering will be a thing of the past.

In addition, frequent travelling and long working hours can have a gradual damaging effect on potted plants.
If the compost dries out, the delicate outer root cells that absorb the water and minerals, shrivel and die, which sets
back the growth of your plant, and it can quite quickly die.

Even if they do survive, your plant can take weeks or even months to recover and produce new absorbing root cells.

In addition, the structure of dried out compost no longer holds water as well as moist compost.

The Lechuza self-watering planters offer the ideal solution, as watering can be greatly reduced without endangering the plant.

You can go away for far longer without the need for watering, even during those hot summer months.

The planter will work effectively as long as it contains enough water in the internal reservoir – and it takes a long time for all the water to be taken up by your plant and lost by transpiration or evaporation.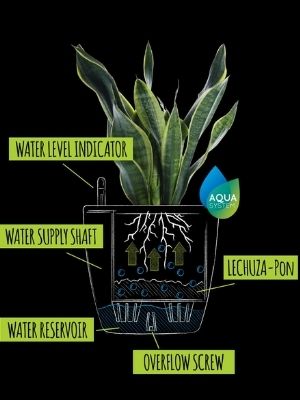 Maintains Nutrients
When you water plants in standard planters, compost nutrients gradually diffuse out from the container with water molecules, and are lost from the bottom of your pot.

Hence you will have to periodically add fresh organic matter to retain the nutrient levels of the compost, or constantly add mineral nutrients.

With a Lechuza self-watering planter, the closed system permits the nutrients to remain inside the environment; all overflow of water enters a separate compartment that can be poured back over the plant, similar to creating your own water / mineral cycle.

As a result, plants receive just the right amounts of water and nutrients they need for optimal growth.
Conserves Water
Saving water, particularly in drier climates, is a constant challenge for gardeners.

The Lechuza planter will only allow some of the water to evaporate after direct watering.

The water in the lower reservoir is sealed and cannot evaporate; consequently reducing the overall amount of water usage compared with traditional pots.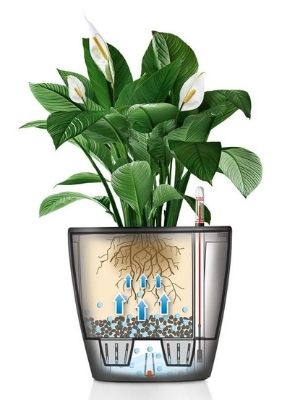 Other advantages of Lechuza self watering planters include:
Frost, UV and Weather resistant
Shatterproof and impact-resistant
Suitable for interior and exterior use in all conditions
Drives harmful salts away from the roots to the surface
No need for mains/water supply