At this year's COP27, world leaders, having at last accepted that an inevitable climatic change is taking place, and one of the main themes is how can we adapt in the near and long term future. To this end, we all need to play our part in adapting to an inevitable changing climate, one of which will clearly be long drought periods, as we experienced this year. Now is the time to start planning your garden for 2023 and beyond.
We are all aware of the need to make our contribution to enhancing biodiversity recovery, but an equally important gardening style is to move towards 'waterwise gardening'.
Definition of 'Waterwise Gardening'
Water-wise gardening is a term used to describe a water and plant management practice that uses plants that have adapted to survive and thrive with minimal water requirements, and designing planting themes and layouts to encourage more efficient water use.
Guide to Water-Free Gardening during a Drought
Gardening without the need for water is possible and can help promote water conservation to help the environment.
You would need to think about things such as the time of year you plant in your garden and opting for drought-resistant plants.
Gardening without water can not only help with water conservation, but can also save you money, time and energy.
Although it sounds counterintuitive, it is possible to achieve a thriving garden that does not require any water. Not only is it achievable, but it's also completely sustainable and will help foster water conservation.
Conserving water will no doubt benefit the environment, but gardening without water is a very practical way of gardening.
With the current climate crisis, it seems that we have locked in extreme climate change and droughts are becoming more and more frequent, knowing this skill will serve to be very useful. Keep reading to learn more about this unique type of gardening!
How can you maintain a thriving garden without water?
I'm going to ask you to completely forget everything you know about gardening. Just joking. Your experience of gardening will help you to understand the principles of gardening without water. This is because you will probably already know the types of plants that can thrive without water.
And this is the first stage: designing and organising a garden that can survive and thrive without water. There are a lot of factors that go into this, such as the soil you use, the plants you choose to grow, and how you take care of it.
To achieve water-free gardening, you have to think about all the small details. For example, the time of year you choose to plant can influence your garden. If you start your planting during a the wettest time of year, this will help your plants to thrive when they are first developing their roots.
This brings me onto the second stage, choosing drought-resistant plants. This will put you in good stead for success. The best plants to choose are native and drought-resistant ones. I've included native plants as a good choice as they have already acclimated to your environment and choosing those that do well in low-moisture soil are the best.
Drought-resistant plants such as cacti and succulents grow best in dry soils, but unfortunately, not everyone can grow those in their garden. Coneflowers can grow in many places, and they can handle dry weather.
The type of soil you use is essential for gardening without water. Using compost would work to your advantage due to its ability to retain water. Mulching the soil will help too, not only does it help to lock moisture in but it also regulates the temperature and helps prevent weeds from growing.
The benefits of gardening without water
The obvious benefit to gardening without water is water conservation which should not be overlooked. Water conservation is vital, because we do not have an unlimited supply of this precious resource. Droughts are occuring more and more frequently due to climate change. Having the necessary gardening skills already developed can alleviate a lot of stress in the future.
What's more, plants that require a great deal of water experience more stress in times of drought. This stress can lead to an increase in pest activity.
Maintaining a garden can become expensive, especially if you're watering your whole garden every single day.
In fact, the average garden can require about 20 gallons of water per week. And the higher temperatures during the summer months will only increase the amount of water needed.
Along with water conservation and saving money, water-free gardening can save you a lot of time and energy. Daily watering can be a labourious task so having just one less thing you have to think about in your garden has got to be good.
If you're someone who is pressed for time but really wants a beautiful, thriving garden, this sustainable method might the best option.
Need some inspiration? Continue reading to learn about our waterwise gardening projects.
Here at East of Eden plants we are passionate about sustainable gardening principles for a changing climate, as encouraged by various national, regional and local initiatives.
We wanted to provide a community garden that would encourage waterwise gardening in a changing climate across the community that would also provide a venue for a diverse range of activities for members of the community and visitors.
We opted for drought-tolerant, Mediterranean plants that require very little or no watering at all.
Waterwise Gardening by East of Eden Plants at Kew Gardens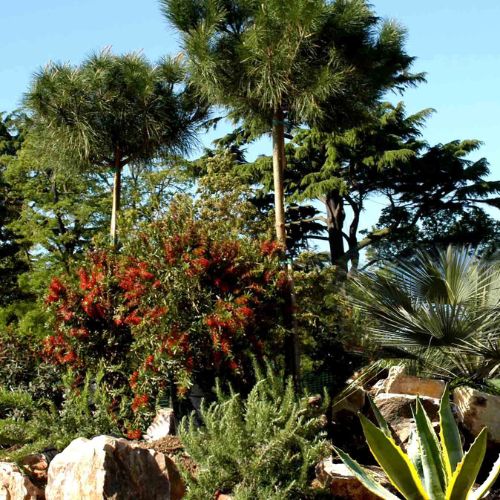 The impact of a changing climate has now been recognised and, like Kew Gardens, we were well ahead of the curve in trying to enlighten gardeners that growing in a changing climate was already upon us.
We met the Kew Gardens in-house designer and the landscaping team about to embark on the creation of a major summer exhibit entitled 'A Coastal Mediterranean Theme'.
One major consequence we foresaw was much drier summers and an increase in the frequency of drought conditions.
It is now recognised that the Mediterranean climate stretches across a belt between 31 and 40 degrees latitude either side of the equator. As such, it takes in the Mediterranean basin, Southern and South Western Australia, the Western Cape of South Africa, Central Chile and the coastline of California.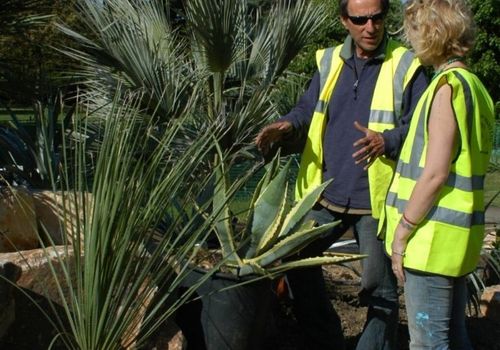 The main aim of our summer exhibit at Kew gardens was to enlighten the public in an accessible and inspirational style into a different way of thinking about gardening.
They wanted to encourage gardening without the need for excessive consumption of one of our most precious resources, water.
Dry gardening does not mean a dull gardening compromise.
The impact of this display not only delights the visual cortex, but will continue to do so well beyond the time of the year when a typical UK garden can only offer you shades of decaying brown vegetation.
A Mediterranean style of landscaping can be rewarding for 12 months of the year.
Our Waterwise Community Garden in Cornwall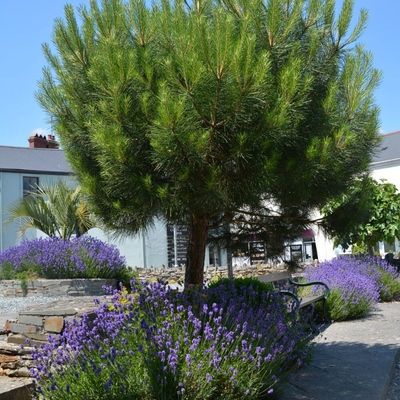 At East of Eden Plants we have always been passionate about promoting the principles underpinning sustainable gardening for a changing climate, as encouraged by various international, national, regional and local initiatives.
As such we have regularly initiated and organised local community biodiversity projects, including the creation of a 'Waterwise' community garden. The aim of this very successful, and much loved local project was to create a provide a community garden that would encourage waterwise gardening in a changing climate across the community that would also provide a venue for a diverse range of activities for members of the community and visitors.
The design, choice of plants and planting scheme was inspired by our work with the Kew Garden's 'Waterwise gardening' project, which was to focus the importance of conserving our invaluable water resources in a changing climate, whilst still being able to create a garden of high aesthetic and biodiversity value
Central to the success of the community garden was the selection of drought-tolerant plants that require very little to no watering at all, whilst still supporting invertebrate populations. Some examples of the plants use included:
Trees: Olive, Fig, Stone Pine, Cypress trees, Evergreen oak, Tamarisk.
Shrubs: Bay Laurel, Helianthum, Olearia, Pittosporum, Phormiums, Eriobotrya,
Perennials: Achillea, Agapanthus, Alchemilla, Armeria, Centaurea, Crocosmia, Cynara, Echinacea, Echinops, Eryngium, Foeniculum, Helianthum, Heuchera, Kniphofia, Lavandula, Olearia, Papaver, Phlomis, Pulmonaria, Rudbeckia, Sedum.
Climbers:Clematis armandii, Trachelospernum jasminoides, Campsis taglibuana
Bulbs: Alliums, Agapanthus, Crocosmia and Iris species
A clear mark of the success of the project, is that following the first year of the plants establishing to the site, we have never watered the garden, and the community continues to enjoy an all year round inspirational verdant diverse theme, as seen in the photos herewith.